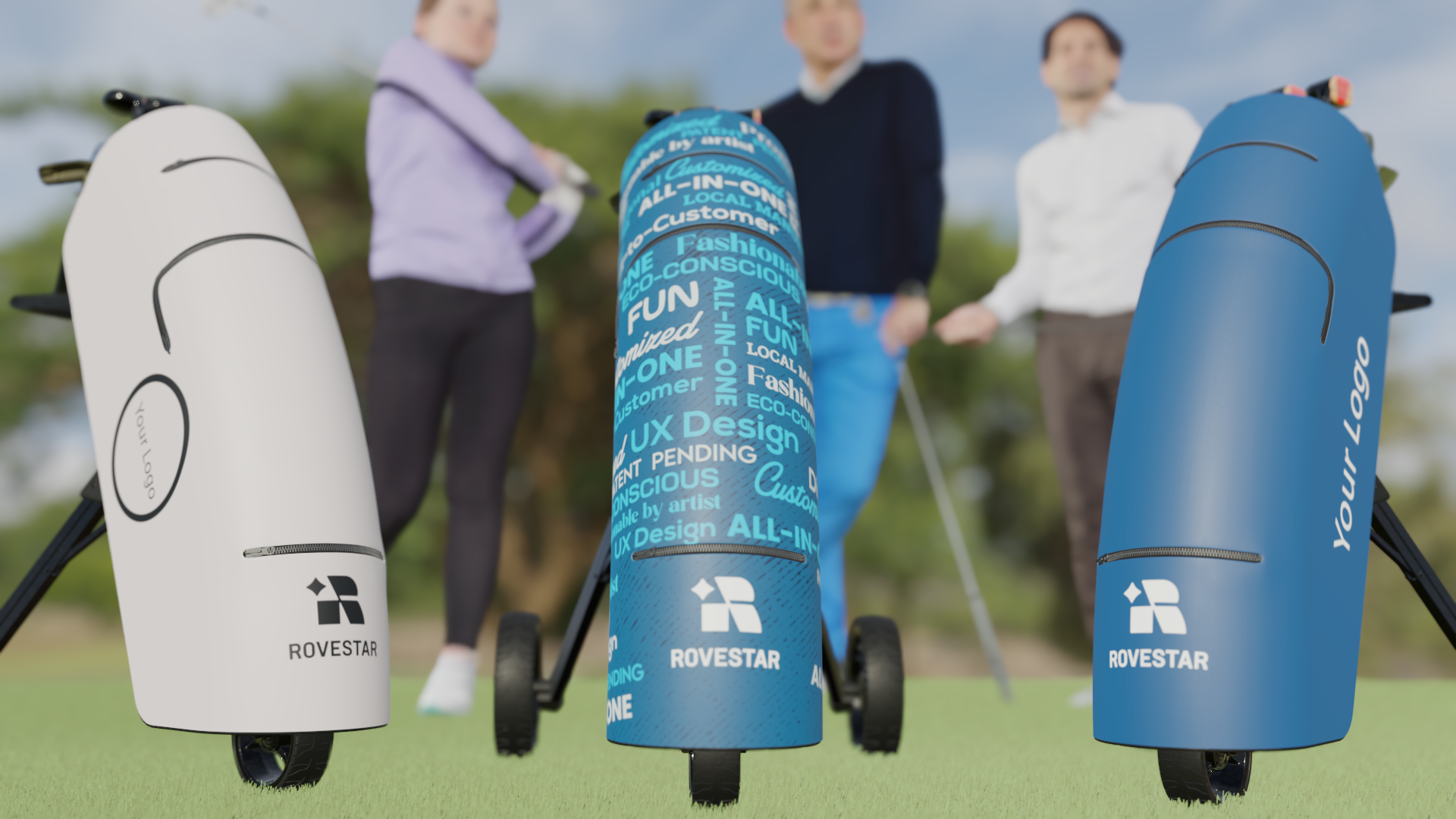 Crafted by golfers for golfers
Rovestar is built by golf enthusiasts who refuse to settle for good enough. Tired of having to choose between a golf bag and a push cart, our founder Fabien Durand and his team set out to change the game. The result is a golf bag with an integrated push cart, combining the best of both worlds.
All-in-one golf bag and cart
Like many golfers, we are tired of always carrying 2 pieces of equipment. That's why the Rovestar was born, with innovative and industrial technologies
Unique and modern design reinvented
Robust 3-wheel deployment system
Thermoformed rugged recycled plastic frame
Reliable electromechanical brake with push button activation
Handles to easily lift the bag
Expressive of your style
Golf bags tend to look the same, even though golfers are a diverse bunch. We think that's a shame.
Whether you're a recreational or competitive type, Rovestar lets you customize your bag to reflect your style. No more boring.
Ergonomic club organisation
Tired of the chaos of your clubs or not being able to find them? Rovestar provides solutions
Innovative club racking: Each club is positioned in its teardrop-shaped slot. Your clubs easily position by themselves.
14 individual club dividers: Each club has its own full-length divider.
All heads at the same height: By fitting to the length of each club, all clubs are easily accessible at the same level
Simple dashboard handle
Your permanent connection with your bag during your round must be as clean as possible
Ergonomic height adjustable and foldable handle
2 balls
3 tees
1 bottle / can
1 phone holder
Want to drive your game, no problem!
Some days, you want to share a cart with your friend. Just remove the rear wheels and install the Rovestar on the back of the cart.
Uncompromisingly sustainable
From the first prototype to the final product, we are committed to sourcing the best parts and materials to develop an eco-friendly alternative to current golf bags. Without a healthy planet, there's no golf. Nature is an integral part of the game.
Proprietary technologies
All good ideas must be protected. Rovestar has filed patents and industrial designs on several innovations, as well as its trademark. We want our customers to benefit from our uniqueness.